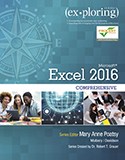 Textbooks: Exploring Microsoft Office 2016, Comprehensive Editions for Excel, Access, Word, and PowerPoint
Published by Pearson
Excel ISBN: 978-0-13-447944-6
Access ISBN: 978-0-13-447945-3
Word ISBN: 978-0-13-447946-0
PowerPoint ISBN: 978-0-13-447948-4
The textbooks are invaluable for learning the skills required by the course. It is recommended that students read through their textbooks to learn about how Microsoft Office is used and its features. The textbooks are also great references in case of problems with completing course assignments.
Software: MyITLab for Exploring Office 2016, WVU Custom Edition
Published by Pearson
Must be purchased as part of one of the below bundles.
MyITLab software provides a computer-based simulation environment for learning how to use Microsoft Office and to assess student knowledge of how to use Microsoft Office. It also provides support for automatically grading MyITLab Bonus Projects assignments. MyITLab simulations have a one-to-one mapping to Hands-On Exercises in the course textbooks.